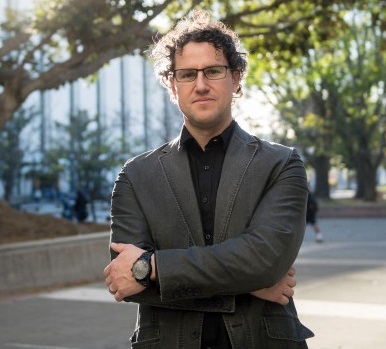 Photo by Kevin Sullivan, Orange County Register
Contact Information
California State University, Fullerton
800 N. State College Blvd
Fullerton, CA 92831
---
Email: bheiner@fullerton.edu
Phone: 657-278-2950

Department Address
Titan Hall, TH-1123

Degrees
2010, Ph.D., Philosophy, State University of New York, Stony Brook
2007, M.A., Philosophy, State University of New York, Stony Brook
2002, B.A., Modern Culture & Media (with honors), Brown University
Research Areas
Public Humanities, Political Theory, Critical Social & Legal Theory, Critical Philosophy of Race, Ethics, Feminist Philosophy, 19th & 20th Century European Continental Philosophy, History of Western Philosophy (esp. Ancient to Augustine), Cultural Studies


HONORS & AWARDS
2021 California Nonprofit of the Year Award, Project Rebound at CSU Fullerton
Certificates of Recognition:

U. S. Congress

2021 U.S. Representative Young Kim (CA 39th District)


California State Senate:

2021, 2018  Senator Josh Newman (29th District)
2021  Senator Ben Hueso (40th District)
2020  Senator Nancy Skinner (9th District)

California State Assembly




2022  Speaker of the Assembly, Assemblymember Anthony Rendon (63rd District)
2021, 2020, 2019, 2017  Assemlymember Sharon Quirk-Silva (65th District)
2021  Assemblymember Mark Stone (29th District)

Orange County




2020  County Supervisor Doug Chaffey (4th District)

2017  "100 Most Influential People" in Orange County – Orange County Register
2017  University Leadership Award – CSU Fullerton

2017  Outstanding Untenured Faculty Award – College of Humanities & Social Sciences, CSU Fullerton

2017  Dean's Award for Faculty Scholarly Achievement – College of Humanities & Social Sciences, CSU Fullerton
2009  Graduate Dean's Fellowship for Professional Activities – State University of New York, Stony Brook
2007  President's Award for Excellence in Teaching – State University of New York, Stony Brook
2002  Dean's Award for Academic Excellence – The Italian School, Middlebury College
2002  William A. Gaston Prize for Outstanding Honors Thesis – Brown University
2002  Karen T. Romer Undergraduate Teaching and Research Award – Brown University
2001  Karen T. Romer Undergraduate Teaching and Research Award – Brown University
Courses Regularly Taught
PHIL-100: Introduction to Philosophy
PHIL-315: Philosophical Writing & Argument
PHIL-320: Contemporary Moral Issues
PHIL-323: Existentialism
PHIL-345: Social & Political Philosophy
PHIL-382: Marx & Marxism
PHIL-383: Postmodernism
PHIL-410: Ethical Theory
PHIL-425: Phenomenology
PHIL-490: Senior Seminar in Philosophy

Publications
Selected Journal Articles
Book Chapters
Selected White Papers
Edited Journal Issue
Book Review
Grants & Special Projects
Heiner is the Founding Chair and Interim Executive Director of the CSU Project Rebound Consortium

and the Founder and former Executive Director (2016-2022) of Project Rebound at CSU Fullerton, which is the recipient of the 2021 California Nonprofit of the Year Award for the 65th Assembly District. The mission of Project Rebound is to support the higher education and successful reintegration of the formerly incarcerated.
The CSU Project Rebound Consortium is a state- and grant-funded network of 15 CSU campus programs that institutes equitable access, builds infrastructures of care, cultivates life-affirming communities of belonging, and provides basic needs and co-curricular supports for students with an incarceration experience.
In 2018, Project Rebound at CSU Fullerton established the John Irwin House, the first transformative housing community for formerly incarcerated university students in the nation, which the California State Assembly and State Senate have recognized, commended, and appropriated funding to replicate in other parts of the state.
Here is some recent media coverage of the program, and here is the CSU Project Rebound Consortium 2022 Annual Report to the California State Legislature.
COLLOQUIA & SYMPOSIA ORGANIZED
Kyle Whyte, "Beyond Reserves: Indigenous Energy Justice," William H. Alamshah Memorial Lecture, CSU Fullerton Philosophy Department, March 2, 2020.
Alisa Bierria, "Black Women, Domestic Violence, and Paradoxical Space," CSU Fullerton Philosophy Department Colloquim Series, May 9, 2018.
"Rethinking Mass Incarceration; Gender, Race, and the Prison Industrial Complex," 44th Annual CSU Fullerton Philosophy Symposium, April 10-11, 2014.
"Immigration and Justice With(out) Borders," CSU Fullerton Political Theory Forum, February 28, 2013.
Kristie Dotson, "Considering Irreducible Epistemic Oppression," CSU Fullerton Philosophy Department Colloquium Series, October 18, 2012.